Here are some of our current projects.
Northrop Grumman Cygnus ISS Resupply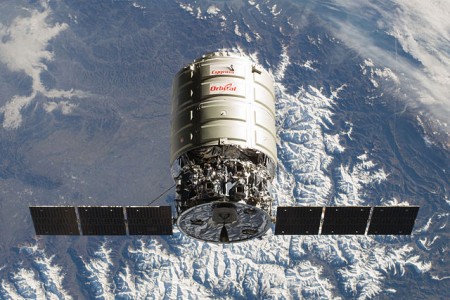 Odyssey is part of the Northrop Grumman Commercial Orbital Transportation Services (COTS) team selected by NASA to conduct cargo delivery services to the ISS as part of the Commercial Resupply Services (CRS) contract. Odyssey also performs Independent Verification and Validation of all safety critical Cygnus flight software.
For more information, visit: Northrop Grumman Cygnus
---
Orion Multi-Purpose Crew Vehicle (MPCV)
Odyssey is part of the Lockheed Martin team supporting NASA's Orion project. The Odyssey role includes support of the vehicle guidance, navigation and control (GN&C), simulation and flight software development, and related analysis for the EFT-1 mission and the upcoming EM-1 demonstration mission.
Odyssey also supports the Kedalion Lab located at the Johnson Space Center. Through Kedalion, Odyssey provides support to the Houston Orion Test Hardware (HOTH) lab for hardware and software in the loop simulations, the Integrated Test Lab (ITL) for hardware in the loop simulations with an Orion mockup, and Operation and Controls (O&C) to prepare the Orion flight vehicle for launch.
Click here for more information: Orion MPCV
---
Visiting Vehicle Integration with ISS
Odyssey is part of the NASA RPOC (Rendezvous, Proximity Operations, and Capture) team that performs International Space Station (ISS) Requirements development and integration of free flying vehicles that operate in proximity of the ISS. Past and present vehicles supported include the European Space Agency ATV, the Japanese Aerospace Exploration Agency HTV and HTV-X, the SpaceX Cargo and Crew Dragon, the Northrop Grumman Cygnus, the Sierra Nevada Corporation Dreamchaser, the Boeing CST-100 Starliner.
For more information, visit: International Space Station
---
ISS Flight Controllers
Odyssey is part of the Stinger-Ghaffarian Technologies team supporting NASA's Flight Operations Directorate at the Johnson Space Center. Odyssey Flight Controllers support "Plan, Train, Fly" operations for the ISS, Visiting Vehicles to ISS, and CST-100. Odyssey personnel currently support the following flight control disciplines:
ADCO – Attitude Determination & Control Officer
VVO – Visiting Vehicle Officer
RNDZ – Rendezvous, Guidance, & Procedures Officer
Prop/Booster – Propulsion & Booster Systems
Pointing – Pointing Officer
FDO – Flight Dynamics Officer (CST-100)
For more information, visit: NASA JSC Flight Operations

---